»
All Archives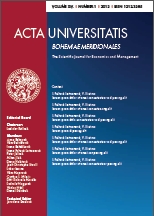 The journal publishes both theoretical and applied original scientific articles in the field of economics and management.
The journal was established in 1998. It follows the tradition started in 1971, and now discontinued, of the Collection of Scientific Papers, Series for Economics (ISSN 0139-8849) published by the State Pedagogical Publishing in Prague for the Faculty of Economics in České Budějovice, University of Agriculture in Prague.
All papers submitted to the journal are subject to the double blind peer-reviewing procedure. The editorial board chooses reviewers from among the most renowned academic and scientific personalities in their field of expertise. Only those papers with relevant scientific contribution are published, which have not been previously published, or offered or accepted in a different journal. The journal is open to all authors who fulfil the stated criteria.
Papers are published preferably in the English language, although Czech and Slovak language papers are acceptable as well.
The publisher of the journal: University of South Bohemia in České Budějovice for the Faculty of Economics.
(431 Records)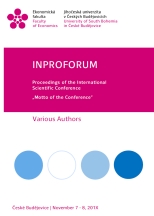 The international scientific conference INPROFORUM is the traditional event at the Faculty of Economics, University of South Bohemia, Czech Republic, focused on the research achievements in the field of Economics and Management. The conference offers the opportunity to discuss relevant topics among academic and practicing economists.
Every even year the conference organized primarily for Ph.D. students (INPROFORUM JUNIOR) to encourage sharing of their experiences and knowledge of economics and management as well as any other relevant issues.
These conference archives are included:
INPROFORUM 2013
INPROFORUM Junior 2012
INPROFORUM 2011
INPROFORUM Junior 2010
INPROFORUM 2009
INPROFORUM Junior 2008
INPROFORUM 2007
(433 Records)
---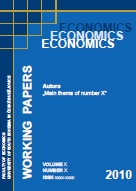 The EWP is a scientific peer-reviewed journal published in English in both paper and electronic version (on-line) with a unique ISSN number for both versions. Each issue deals with a different topic. One volume per year containing at least one issue is published.
The EWP publishes original papers on current theory and methodology of economics and economic studies based on relevant empirical research. The aim of the EWP is to provide a platform for publishing and public discussing of longer studies (30 – 50 pages) usually not accepted by proceedings of scientific conferences and scientific journals.
The publisher of the journal: Faculty of Economics of the University of South Bohemia in České Budějovice.
Publishing the EWP is based on the Strategy of the Faculty of Economics realized as a tool of a long-term support to the research.
(1 Records)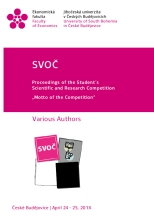 Student´s scientific and research competition (SVOČ) is competition organized by Faculty of Economics at University of South Bohemia in České Budějovice. Students of bachelor, master´s and doctoral degree participate in competition. The main aim of competition is support of scientific, research and presentation skills of students.
(0 Records)
---
1 - 4 of 4 Items